Penfriend Portable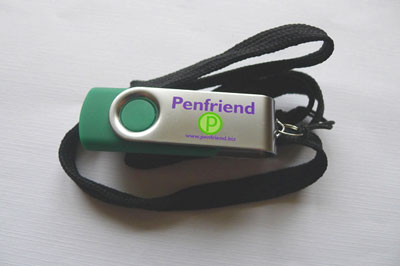 "Penfriend Portable" brings the world famous literacy support features of Penfriend XL, to people on the move. It is available for use on an unlimited number of computers, one at time, so is ideal for taking between classrooms, sites or taking home in the evening.
This hand-held Penfriend software requires no installation, and can be used on machines with stricter administrative policies than for other software. Simply double click on the icon, and it works! No installers, no networks, no delays.
Penfriend is the trusted name for convenient, no-nonsense word prediction and screen reading in many European languages. It lets slow and reluctant writers say what they mean without spending all their time worrying about which letter comes next, or finding the right keys.
Penfriend's prediction, screen reading and on-screen keyboards work in Google Docs giving you access to a web based word processor and document storage.
Penfriend Portable is offered on a USB stick, which is easy to carry around and easy to use with any typical PC. The same USB stick can be used to store documents and other files at the same time; it is generously equipped with a whole gigabyte of space for whatever you want to put on it. It is ideal for going home at night with the software and files needed to finish of what was happening during the day.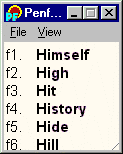 Penfriend's core strength is in predicting the next word you want to write. It does this using a dictionary of known words, along with detailed knowledge of when they are likely to be used, their grammatical type, words you have used before, and so on. Every time you type a letter, it comes up with a new list of the most likely words which fit your letters. Choosing one is a simple matter of pressing one more button, or clicking on the word with the mouse. If you're not sure how to read it, you can hear it spoken before you choose a word.
Penfriend Portable includes all of the familiar features of Penfriend XP and Penfriend XL, such as: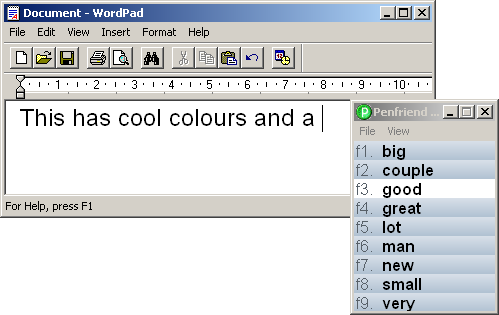 Penfriend Portable combines terrific performance with a range of well chosen features and surprising ease of use. As with all Penfriend Ltd products, it brings dyslexic and physically disabled users benefits including the confidence to write more, the accuracy to write what they mean, and the speed to write more in the time available. It can be used with almost any word processor, as it intercepts and simulates messages from the keyboard to the application.